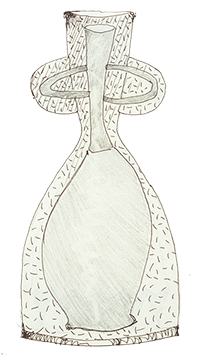 As an artist, he has exhibited his work in over two-hundred exhibitions in the United States, Japan, Canada, Russia, Latvia, and Korea. He has been part of numerous invitational exhibitions, including: 'Heroes and Icons,' Modern Art Museum of Forth Worth, Texas; 'Three Living Legends in Art,' Sisson Gallery, Dearborn, Michigan; and 'Twenty American Artists,' American Art Museum, New York, New York. His work is in major collections throughout the world, including: Pushkin Museum, in Russia; the Riga Museum of Art, in Latvia; the Byung-Tak Woo Public Collection, in Korea; the Sea of Japan Collection, in Japan; and The Butler Institute of American Art, in the United States. Over the past twenty years, he received five 'University Arts Endowment Grants' from Indiana State University to help support his work.
In the tenth anniversary edition of 'Arts Indiana,' he was included as a 'State Art Treasure.' (This is a listing of Indiana writers, performing and visual artists.) In 2008, he was awarded their 'Lifetime Achievement Award' by Arts Illiana, of the state of Indiana. He has been listed in Who's Who In American Art since 1972.
In 2010, a documentary film was made on his life titled 'Dick Hay: Artist, Teacher, and Mentor.' It was produced by NCECA and directed by Judy Kelly Productions, Dallas.
He is much sought after lecturer and has been invited to lecture on his work in over one-hundred-and-twenty universities and art conferences in the United States, Canada, Latvia, Russia, and Korea; including: the University of Miami, the University of Delaware, Princeton University, Arizona State University, Alfred University, Indiana University, the University of Eastern New Mexico, Louisiana State University, the University of Kansas, Auburn University, the University of Dallas, and the National Council on Education for the Ceramic Arts Annual Conference. He was one of fifteen American artists invited to lecture at the Dzintari Art Institute, Jurmala, Latvia. And he was one of three American artists invited to lecturer at the Muju International Art Symposium, Muju, Korea.
He retired in 2006 after forty years of university teaching, and is a Professor Emeritus of Art, Indiana State University. As a teacher, he received the 'Caleb Mills Award for Distinguished Teaching' from Indiana State University. And was awarded a 'Teaching Fellow' by the Center for Teaching and Learning, Indiana State University. He received the 'Excellence in Teaching Award' from the National Council on Education for the Ceramic Arts' at their annual conference in San Diego, California, in March, 2003 (This was one of only seven awards in teaching that NCECA had presented up to that time in their thirty-six years of existence).
He has been a member of the National Council on Education for the Ceramic Arts since 1967. And he was president of NCECA for two years. And he was awarded the 'Fellowship of the Council' by this organization in 1977.
He received the Bachelor of Fine Arts degree from Ohio University and the Master of Fine Arts degree from Alfred university, the New York State College of Ceramics.
*******************************************************
January, 2014. In reading back through all of this in an attempt to update the website. I can only add... I have been very fortunate in this journey. I don't think that I have ever had a life's plan. And I don't think that I have asked for much. But I have received more that I could have ever envisioned. It has not been a one-hundred percent positive life. But it has been real close. And now. As a retired person. My life is truly different. I was cursed/blessed to express myself through making objects. And I feel obligated/driven/doomed/guilty if I don't do this daily. I now work in my studio every day. Maybe for an hour. Maybe for twelve hours.
After I retired, I was awarded a surprise retirement party given to me by 200 past students that came back to campus from throughout the country. And, after much reminiscing with many rewarding and loving things being said, I was given two tickets to Barcelona. I was amazed/honored/humbled that this many past students came back for this event. It was a wonderful experience. And Barcelona was great.